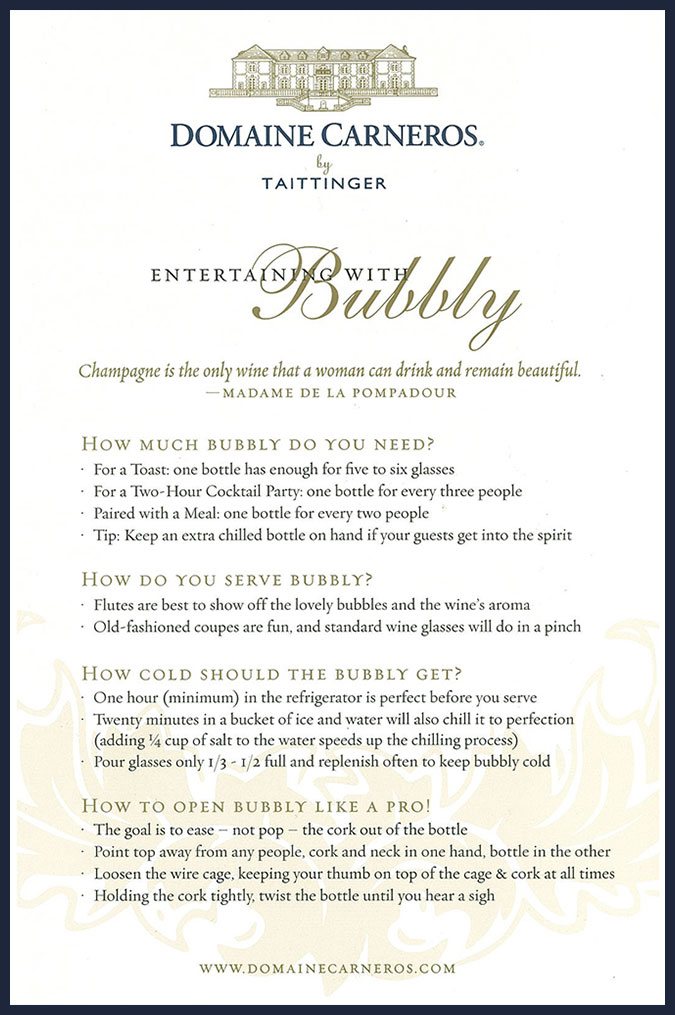 Domaine Carneros
Sell Sheets
Domaine Carneros Brut Rose Cuvee de la Pompadour
The wine celebrates the life and times of Madame de Pompadour (the great courtesan and mistress of Louis XV) who is credited with introducing Champagne to the court and was an in uential tastemaker in the matters of art, architecture and philosophy–famous for her comment, "Champagne is the only wine a woman can drink and remain beautiful."
Brut Rosé has historically been reserved for guests of the winery. Now, though the wine continues to be made in limited production, Domaine Carneros offers small quantities for national distribution.
Tip Cards
Entertaining with Bubbly and Pinot Noir.
Quantities
A 750 ml bottle of sparkling wine contains ve to six glasses
1 bottle for every six people for a toast only
1 bottle for every three people for a two-hour reception
1 bottle for every two people if sparkling wine is served exclusively throughout the reception and lunch or dinner
Keep an extra bottle on hand if your guests get into the spirit
Glassware
Sparkling wine shows best in utes or "tulip" glasses, which show off the bubbles and concentrate the aroma, but wine glasses are acceptable and coupes can be fun.
Temperature
42°F is said to be the ideal temperature for serving sparkling wine. Chill the bottle for an hour in the refrigera- tor, or ll a bucket with ice and water and allow the bottle to chill submerged for about 20 minutes. (Adding 1⁄4 cup salt to the water lowers the temperature and chills the wine faster.)
Opening
To open like a pro,the corks hould be eased out of the bottle with a controlled "sigh." Point the bottle away from people and hold the cork and neck of the bottle in one hand while loosen- ing the wire cage with the other hand, keeping your thumb on top of the cork at all times. Hold the cork rmly and twist the bottle (not the cork)—et voilà!
Domaine Carnets Brut Rosé
A blend of estate-grown Carneros fruit, using 58% Pinot Noir and 42% Chardonnay, this is a wine that em- phasizes fruity and oral characteristics. This cuvée has aromas of wild strawberries and roses combined with hints of peach. It is meant to be enjoyed at a fairly young age when the fruit character is still predominant, yet there is enough age to make the wine round and balanced. It has a superb af nity for food, pairing especially well with salmon or duck. Brut Rosé is not sweet—it is a true Brut.
93 pts – Wine Enthusiast
92 pts – Chairman's Trophy, 2010 Ultimate Wine Challenge
HARVEST ROSE
Our Winemaker's Favorite
4 oz. Domaine Carneros Brut Rosé
One very thin, round sliver of peach
Fill a martini glass with the wine. Float the peach sliver on top.
Change the fruit to suit the season: a handful of pomegranate seeds, or a very thin slice of persimmon.