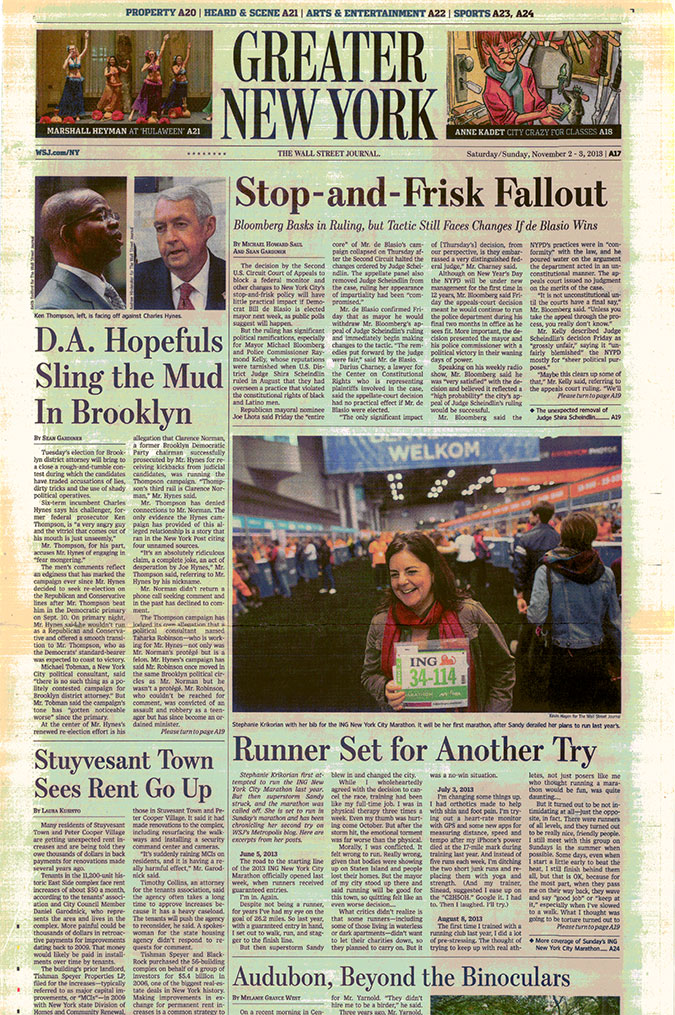 Runner Set for Another Try
Nov. 1, 2013 9:13 p.m. ET
Stephanie Krikorian first attempted to run the ING New York City Marathon last year. But then superstorm Sandy struck, and the marathon was called off. She is set to run in Sunday's marathon and has been chronicling her second try on WSJ 's Metropolis blog. Here are excerpts from her posts.
June 5, 2013
The road to the starting line of the 2013 ING New York City Marathon officially opened last week, when runners received guaranteed entries.
I'm in. Again.
Despite not being a runner, for years I've had my eye on the goal of 26.2 miles. So last year, with a guaranteed entry in hand, I set out to walk, run, and stagger to the finish line.
But then superstorm Sandy blew in and changed the city.
While I wholeheartedly agreed with the decision to cancel the race, training had been like my full-time job. I was in physical therapy three times a week. Even my thumb was hurting come October. But after the storm hit, the emotional torment was far worse than the physical.
Morally, I was conflicted. It felt wrong to run. Really wrong, given that bodies were showing up on Staten Island and people lost their homes. But the mayor of my city stood up there and said running will be good for this town, so quitting felt like an even worse decision.…
What critics didn't realize is that some runners—including some of those living in waterless or dark apartments—didn't want to let their charities down, so they planned to carry on. But it was a no-win situation.
July 3, 2013
I'm changing some things up. I had orthotics made to help with shin and foot pain. I'm trying out a heart-rate monitor with GPS and some new apps for measuring distance, speed and tempo after my iPhone's power died at the 17-mile mark during training last year. And instead of five runs each week, I'm ditching the two short junk runs and replacing them with yoga and strength. (And my trainer, Sinead, suggested I ease up on the "C2H5OH." Google it. I had to. Then I laughed. I'll try.)
August 8, 2013
The first time I trained with a running club last year, I did a lot of pre-stressing. The thought of trying to keep up with real athletes, not just posers like me who thought running a marathon would be fun, was quite daunting.…
But it turned out to be not intimidating at all—just the opposite, in fact. There were runners of all levels, and they turned out to be really nice, friendly people. I still meet with this group on Sundays in the summer when possible. Some days, even when I start a little early to beat the heat, I still finish behind them all, but that is OK, because for the most part, when they pass me on their way back, they wave and say "good job" or "keep at it," especially when I've slowed to a walk. What I thought was going to be torture turned out to be the perfect antidote for my fear.
Sept. 5, 2013
When I run, there is a voice inside my head.
No, not that voice. An actual voice speaking to me through my earphones telling me my distance, time and pace. My friends and I call her "Nikki from Nike" or "the lady who talks in my head." She's the voice of the Nike app.…
As for me, I'm mentally preparing for a positive split of unheard of proportion. And speaking of pace: I set a personal best this week on the track on a speed run. For a 5K. So that is 3 miles I ran faster than I ever did before. Just 23.2 to improve upon before race day. I'm hoping that ever-so-tiny achievement helps to drown out the louder of the two voices in my head. The one on the loop that says, "What made you think you could actually pull this off?" Especially as I look at the training plan my coach, Sinead, has sketched out for me for the next six weeks. The pain begins now.
Sept. 30, 2013
I have a long list of irrational fears, but the one that keeps me up at night at the moment is…that I'm going to reach the 16-mile mark, the wheels will fall off, I'll slow to a crawl and the streets will reopen as a marathon sweep truck that's been following me passes me by…
Peter Ciaccia, executive vice president of the New York Road Runners, told me there are four sweep buses parked throughout the course. The last one is at the 20-mile mark to pick up those who can't finish. It seems if I haven't reached that point by 5 p.m., my nightmare has the potential to become a reality. "You can keep going, but there's an anticipated street reopening at 5 p.m.," Mr. Ciaccia said.…
He told me that even once the streets do reopen, his team will be there to support runners, making sure anyone still going, even in the dark that night, will have water and be assisted in crossing the finish. "We've had instances where we've brought individuals across the finish line close to midnight," he said.
It is that kind of get-it-done spirit I'm feeling in the streets of New York right about now.…I'm looking forward to that same spirit and momentum to help me beat the street closures on race day.
Oct. 18, 2013
Last week, it had all caught up with me. My ankle was swollen, my knees hurt and my hip flexor was tweaked. I've been spending a few days a week in physical therapy working out the kinks.
And oddly, nowhere have I more felt the spirit of New York City than in this physical therapy center, where everyone is diligently working to help get you physically race-ready.…
Having said that, I'm finally excited about the race, maybe for the first time. I feel ready(ish). I have signed up with the Running Center to complete the final 10 miles of the marathon course on Saturday, then I'll do nothing above 3 to 5 miles until race day. We got our bib number, start time and corral color this week.…
Now, this venture turns mental. I can say this much: I'm less terrified than I was last year at this time.
Nov. 1, 2013
Never mind Sunday's marathon. I'm quite tired from spending Thursday morning at the expo at the Jacob K. Javits Convention Center, where, along with throngs of others, I collected my bib. Now that I've got it, there is no turning back.
There was something else waiting for 20,000 of us who trained twice—once in 2012 before it was canceled due to Sandy, and again for Sunday's run: a commemorative orange bracelet marking both efforts. They handed me last year's medal, too, which up until now, I'd declined to accept even though I knew it was available to me. I haven't even worn the 2012 shirt they gave us, since I didn't get to run the race. The bracelet, I'll wear on Sunday, though, to remind me when I'm hurting at mile 22 just how much effort I've put in.
Here's the story on my second attempt at my first marathon.