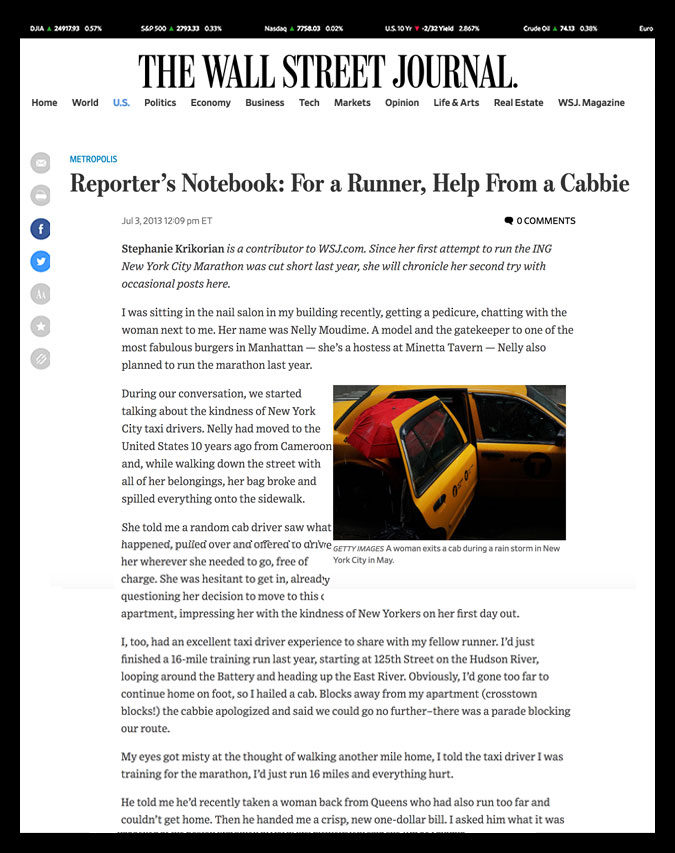 Reporter's Notebook: For a Runner, Help From a Cabbie
Jul 3, 2013 12:09 pm ET
Stephanie Krikorian is a contributor to WSJ.com. Since her first attempt to run the ING New York City Marathon was cut short last year, she will chronicle her second try with occasional posts here.
I was sitting in the nail salon in my building recently, getting a pedicure, chatting with the woman next to me. Her name was Nelly Moudime. A model and the gatekeeper to one of the most fabulous burgers in Manhattan — she's a hostess at Minetta Tavern — Nelly also planned to run the marathon last year.During our conversation, we started talking about the kindness of New York City taxi drivers. Nelly had moved to the United States 10 years ago from Cameroon and, while walking down the street with all of her belongings, her bag broke and spilled everything onto the sidewalk.
She told me a random cab driver saw what happened, pulled over and offered to drive her wherever she needed to go, free of charge. She was hesitant to get in, already questioning her decision to move to this city, but did so anyway. He took her to her new apartment, impressing her with the kindness of New Yorkers on her first day out.
I, too, had an excellent taxi driver experience to share with my fellow runner. I'd just finished a 16-mile training run last year, starting at 125th Street on the Hudson River, looping around the Battery and heading up the East River. Obviously, I'd gone too far to continue home on foot, so I hailed a cab. Blocks away from my apartment (crosstown blocks!) the cabbie apologized and said we could go no further–there was a parade blocking our route.
My eyes got misty at the thought of walking another mile home, I told the taxi driver I was training for the marathon, I'd just run 16 miles and everything hurt.
He told me he'd recently taken a woman back from Queens who had also run too far and couldn't get home. Then he handed me a crisp, new one-dollar bill. I asked him what it was for. He said, "It's for good luck, for the marathon." He told me he gave his Queens fare one, too.
Like everyone I encountered that October, even the cab drivers were supporting my initiative. I was moved and impressed. I thanked him. I stuck that dollar to the back of my door and saved it.
Last year was to be Nelly's first 26.2 miles as well and, like me, she said she cried when it was cancelled. We laughed about how emotional the training was and how we missed the pay off of getting to run it. She referred to the race as her "cruel lover" and said she's going to work on mental preparation this year, maybe more than the physical. (Even though she's gunning for an 8-minute mile.) She also said she's changing up her training by running with a buddy this time. She didn't do that last year, and she thinks it will help keep her motivated.
I'm changing some things up, too. I had orthotics made to help with shin and foot pain. I'm trying out a heart rate monitor with GPS and some  new apps for measuring distance, speed and tempo after my iPhone's power died at the 17-mile mark during training last year. And instead of five runs each week, I'm ditching the two short junk runs and replacing them with yoga and strength. (And my trainer, Sinead,  suggested I ease up on the "C2H5OH." Google it. I had to. Then I laughed. I'll try.)
And I tucked that fresh one-dollar bill into my training pouch for good luck. So far, only a couple of body parts hurt, so maybe it's working.
What do you use to measure distance and speed? Follow Stephanie Krikorian on Twitter @StephieKrik
Earlier: